CALL FOR POSTERS
Background
Today the Hindu community is experiencing a major resurgence around the world. Hindus from around the globe are making major contributions across various fields including sciences, technology, economics and arts. They are running large multinational corporations. They are even building a strong footprint in the global political arena. However so far these are primarily individual successes stories. The next logical step is to forge these individual successes into a cohesive force that can make its presence felt on the world stage. To that end, a major historic event, the 2nd WORLD HINDU CONGRESS is being held in Chicago on September 7-9, 2018 consisting of seven parallel conferences:
Economy Conference
Education Conference
Media Conference
Political Conference
Organizations Conference
Women Conference
Youth Conference
The World Hindu Congress will bring 2000 prominent delegates from the Hindu community around the world under one roof. They will discuss, debate and strategize for 3 days to develop a roadmap for boosting the profile of the Hindu community on the world stage. In addition, they will have a unique opportunity to showcase their success stories, network with like-minded people from around the world, and discuss issues of importance to the community to find tangible solutions.
To view more updates about WHC 2018 and to register for this historic event, please visit
whc2018.worldhinducongress.org
Call For Posters
During the WHC 2018, poster presentations will be held to provide qualifying delegates a platform to share their unique case studies, ideas and success stories with others. The purpose of poster presentation is to enable delegates to "connect, inspire and share ideas" leading to positive outcomes for the common good of the Hindu community worldwide.
To qualify one must be a registered or prospective delegate to World Hindu Congress and have a compelling success story (case study or idea) which aligns with the theme of one of the seven conferences within the congress as noted earlier. If you are such an individual, we would like to hear from you.
Details of how to submit your proposal can be found in "How to Become a Poster Presenter at WHC" section. For any questions or clarification, please feel free to contact: Dr. Jai Bansal or Dr. Chandra Reddy at
WHC2018.Posters@Gmail.com
Please note that in view of the anticipated overwhelming response to this call, the organizers will make the final selection of the entries to be included in the poster presentations. During the event, all presentations will be judged for quality/clarity/impact and top 3 posters will be recognized with appropriate citations.
How to become Poster Presenter
1. Abstract Submission
The first step inthe process is to submit a brief abstract of your poster proposal, along with a summary of your background (CV) by April 30, 2018.
• Abstract shall be a no more than 250 words long. It should include the title, presenter's name/contact information, and the main body describing the key points of the story/event including motivation, approach and conclusions.
• CV shall be no more than 100 words long
• Email the abstract and CV as attachments to WHC2018.Posters@Gmail.Com
Deadline: April 30, 2018
2. Abstract Acceptance
The session organizers will select entries using a set of criteria such as relevance,alignment with the theme and potential impact. All authors will be notified by May 15, 2018 as to whether their proposals have been selected for the poster session.
3. Poster Preparation
The poster should be prepared as a slide using Microsoft PowerPoint in accordance with the format given here:
Content : The poster should summarize the information concisely and attractively to help publicize it and generate discussion. As a minimum, it should contain the following:
Title - Concise title of the poster
Author(s), with affiliations and emails
If research project, the poster should include the following sections:

Introduction or objective statement giving brief overview of the poster.
Problem Statement
Method - Brief description of the processes and procedures
Results - Data, outcomes, findings
Conclusions and / or discussions - Discussion of the significance of results, key conclusions
Acknowledgements

If describing an event or case study, the poster should include the 5 W's:

Introduction or objective statement giving brief overview of the poster
Problem Statement
Method - Brief description of the processes and procedures
Results - Data, outcomes, findings
Conclusions and / or discussions - Discussion of the significance of results, key conclusionsAcknowledgements

II. Size: The PowerPoint slide should be designed to be printed on a 36" x 48" hardboard. See poster preparation guidelines on how to do this.
Deadline: July 1, 2018 for sending the Microsoft PowerPoint file containing the poster to WHC2018.Posters@Gmail.com. The organizers may request modifications to improve the clarity and quality of the message
4. Responsibilities
Author's responsibility

To be present at the poster location at specified dates/times during the Congress
Explain the subject matter to interested delegates
Distribute copies of the poster handouts to delegate if requested

WHC Responsibility

Print the poster on 36" x 48" hardboard
Set up the poster on display stand at the appropriate location in the venue
Make one-page handout for each poster available near the poster location
Guidelines For Creating Large Format Posters
Posters should be designed in a manner that best communicates your message in a visually and graphically – with as few words as possible, so the viewer can quickly absorb your message and determine whether she/he needs to study it more or move on to the next poster.
This section offers tips and best practices for creating a large format poster using PowerPoint 2013 (or later).
1. Poster Size and Setup
First create a single large slide in PowerPoint and set your page (slide) size to 48" x 36"
In PowerPoint, click the Design tab, and in the Customize group, click Slide Size > Custom Slide Size
In the Slide Size dialogue box (shown on right), under Slides sized for: select Custom
Set Width = 48" and Height = 36"
Set Orientation to Landscape
Choose OK. A dialogue box will appear, asking you whether you want to maximize the size of your content. Click the Maximize button.
Click on the Home tab, and in the Slides group, click on the drop-down arrow next to Layout. Select a Blank layout.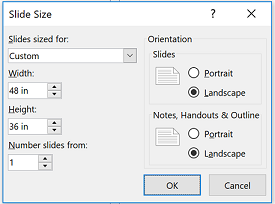 2. Use of Shapes to Plan Poster Layout
Consider using shapes such as rectangles to plan the layout of different sections of your poster (see example on the right). You can delete the shapes later if you only want to use them as placeholders.
3. Poster Background
Simple and light monochromatic background usually works best. If you must choose a different background, pick something that does not compete for attention with the story you want to tell.
4. Font Sizes
Title: ARIAL BLACK, 72 Pt
Subtitle (Second title, Names, affiliations etc.): ARIAL BLACK, 60 Pt
Section Titles (Abstract, Introduction, Results etc.): ARIAL BLACK, 48 Pt
Body text: Calibri or Arial; 36 pts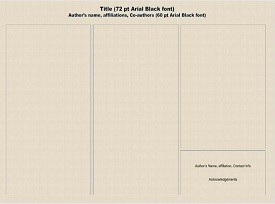 Do's and Don'ts
Make sure that all section headers are the same font size.
DO NOT USE ALL CAPS in any part of your poster. Using all caps makes your text harder to read and it looks like you are shouting.
Make sure the body text is the same font throughout the entire poster.
For paragraphs or blocks of text, use left justify. While full justify (justifying the text on both the left and the right) produces very neat-looking columns, a ragged edge is easier to read (really).
Use high contrast colors between foreground and background. A light background with a dark foreground is the most readable combination.
Allow enough "white space" in your poster to keep it from looking cluttered.
Minimize the use of special effects in PowerPoint (for background and text).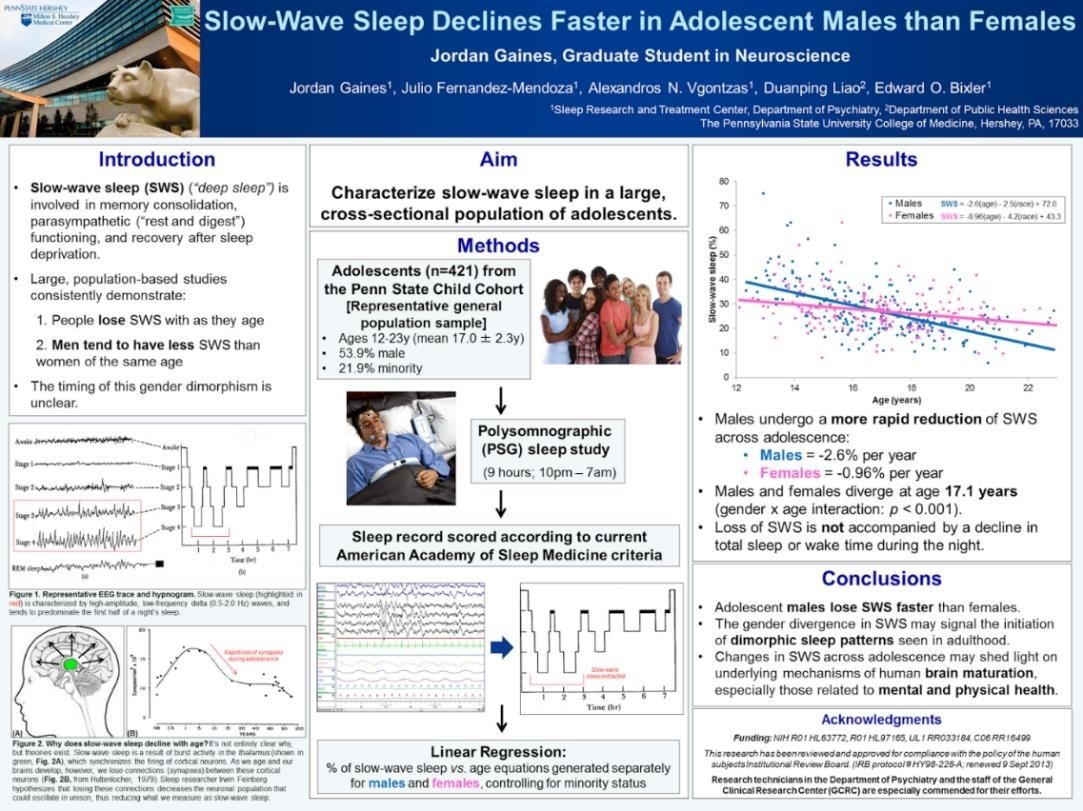 Register for WHC 2018@Chicago
For your reference, we have included here an example of a poster - an award-winning poster. It employs a very clean layout, combination of text and graphics to tell the story, the text is used sparingly and delivered in bullet points as opposed to long unbroken paragraphs.

WHC 2018 will be held at the Westin Hotel, Chicago, USA from 7-9 September, 2018.
Shri Raju Reddy is the Vice-Chairperson.
Registration fee for WHC 2018 is as below:
| | |
| --- | --- |
| Early Bird | After May 31, 2018 |
| $300 - Men | $350 - Men |
| $200 - Women | $250 - Women |
| $250 - Student | $200 - Student |
The registration fee covers all registration material and meals during the conference. It does not include the cost of accommodation.
Register Now, Avail Early Bird Rates!!
We urge everyone to register at the earliest for WHC 2018 and avail of Early Bird fees till 31 May 2018, by visiting our event website -
https://whc2018.worldhinducongress.org/register_now.cfm
You can also book accommodation at the Conference venue (Westin Hotel) through the WHC 2018 website, and benefit from the deeply discounted rate we have negotiated. This accommodation is on a first-come, first-served basis.
Once your registration is approved by the Organising Committee, an invitation letter will be provided to assist in obtaining visas. For further information or queries, please visit our website -
whc2018.worldhinducongress.org
- or email us at
info@worldhinducongress.org